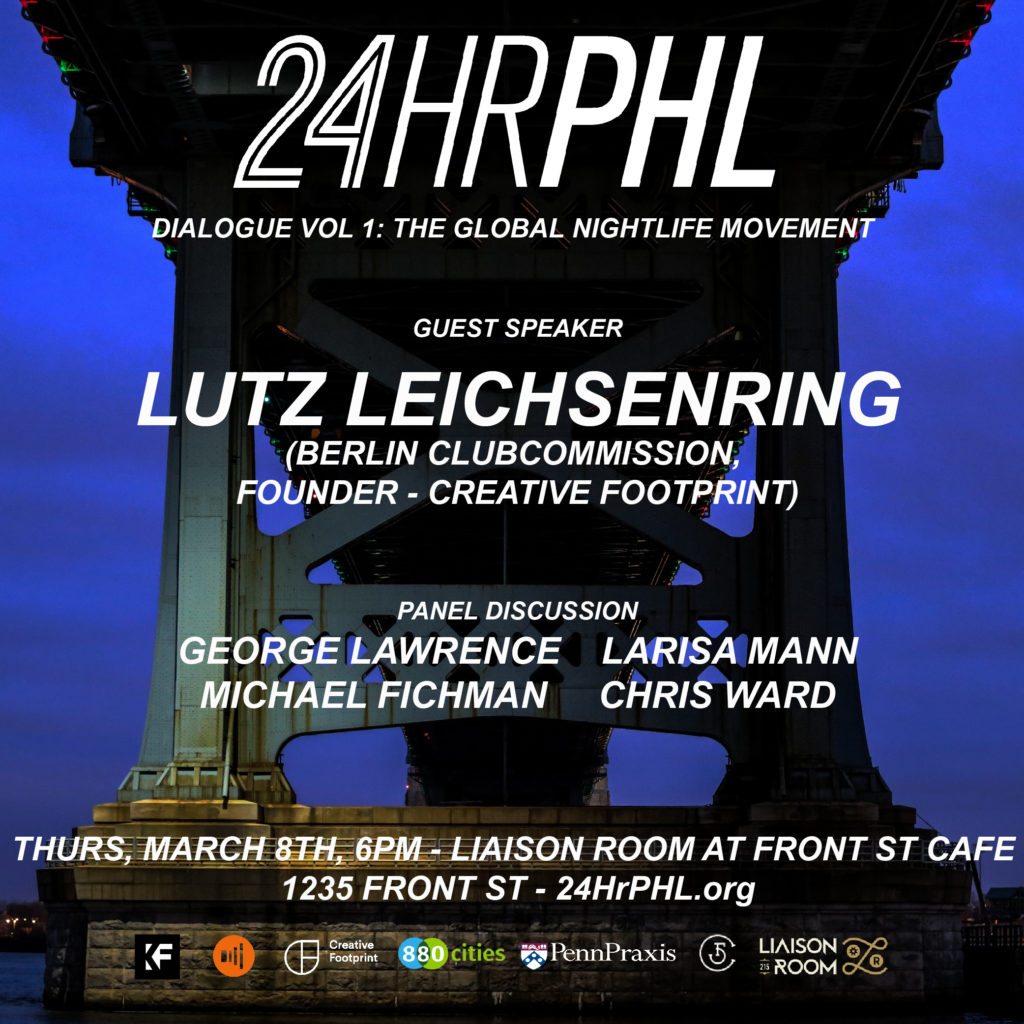 FOR IMMEDIATE RELEASE:
24HrPHL presents "Dialogues Vol 1: The Global Nightlife Movement." Guest speaker Lutz Leichsenring is the excecutive board member of the Berlin Clubcommission and a global expert in protecting and promoting creative industries. He will discuss the political, economic and cultural issues affecting the sprawling and world renowned Berlin underground club scene. He will also discuss insights from consulting with nightlife leaders and city governments worldwide.
24HrPHL Dialogue takes place on Thursday, March 8th, 2018 from 6-8PM at Liaison Room, upstairs at Front St. Cafe – Front & Thompson Streets, Philadelphia. There is no admission charge.
This conversation comes at a time of rising nightlife consciousness. Improving the way a city works after dark can eliminate the civic dysfunction that stifles creative, inclusive and vibrant industries. Making transportation, preservation, code enforcement, inclusion, safety and more work better at night improves a city's competitiveness and improves citizens' opportunities for expression and community.
Leichsenring will be joined by a select local panel – Chris Ward of Johnny Brenda's and UArts, Temple University sociologist and Dutty Artz DJ Larisa Mann and Promoter and GL Agency Founder George Lawrence. The panel will be moderated by 24HrPHL's Michael Fichman.
24HrPHL is a community engagement and informational resource project dedicated to supporting Philadelphia's nightlife arts and culture community and articulating a vision for a better, more progressive Philly nightlife.
24HrPHL convenes discussions and workshops focusing on culture, public safety, cultural inclusion, affordability, global competitiveness, planning regulations, and more. Recent projects include a Q&A with Philadelphia's Licenses and Inspections commissioner, facilitated staff training to identify and intervene in sexual assault incidents, ongoing community meetings, and the first quantitative survey of Philadelphia's nightlife community. The organization has also facilitated meetings with global nightlife leaders including Amsterdam Night Mayor Mirik Milan and Mayor of London's Night Czar Amy Lame. 24HrPHL has received support from the Knight Foundation and 880 Cities' Emerging City Champions program and in-kind support from PennPraxis and Front St. Cafe.
Promotional photography provided in-kind by Conrad Benner of Streets Dept.
For all inquiries, contact Michael Fichman at 24HrPHL@gmail.com
Speaker and panel biographies:
Lutz Leichsenring
Lutz is one of the world's authorities on protecting creative industries. Since 2009, he has been the spokesman & executive board member for the Berlin Clubcommission. He has fought tirelessly for the rights of Berlin's vast underground club scene by organizing demonstrations, conferences, workshops & by speaking at round tables & parliamentary committees. With his recently launched project Creative Footprint, Lutz measures, compares, & advocates for creative spaces in urban areas worldwide. He brings the answers, strategies & collaboration tools for upcoming promoters & grassroots venues.
Dr. Larisa Kingston Mann
Larisa is Assistant Professor of Emergent Media at Temple University. Her research examines how oppressed people use music to redraw the borders of spaces, communities and social relationships. As a DJ she has toured internationally and has organized events from block parties to raves.
Chris Ward
Chris is the talent buyer and promoter at Johnny Brenda's and the former drummer of the band Pattern is Movement. He teaches music business courses at the University of the Arts.
George Lawrence
George is a former nightlife promoter turned brand manager and experiential marketer. He's been working in nightclubs since he was a teenager and producing nightlife events since 2008. He co-produces Friends & Fam at Kung Fu Necktie, a monthly event which averages over 400 attendees. His clients include DJ/producers Matthew Law and Rich Medina, Red Bull Threestyle US Champion DJ Trayze, House music legend Lady Alma, Pabst Blue Ribbon and Jack Daniel's.
Michael Fichman (Moderator)
Michael is the founder of 24HrPHL. He has been DJing, producing music and producing events for almost two decades – touring the globe and producing dozens of records under the names DJ Apt One and Michael The Lion. By day, he is a community organizer and an urban planning researcher and lecturer at the University of Pennsylvania School of Design