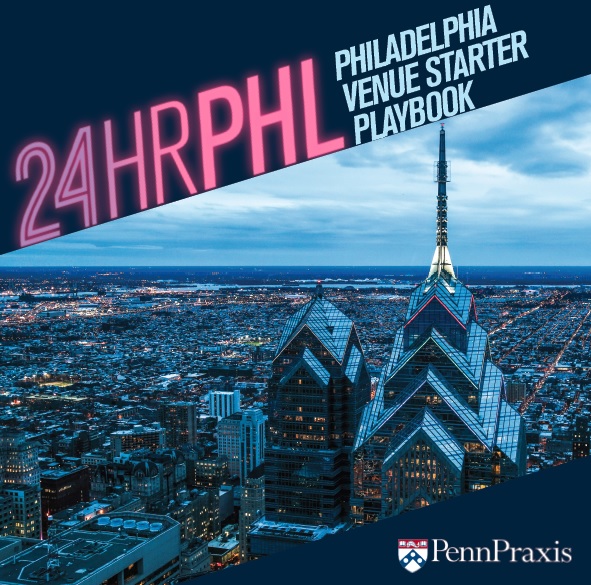 Download the Playbook (PDF): Web Version | Print Version
Do you want to create a new venue for live music or entertainment in the City of Philadelphia? What do you need to know?
To get a Special Assembly Occupancy License – the typical license for nightclubs and other entertainment venues – you're going to have to navigate a web of websites, codes and documents to figure out what to do. You'll have to learn about zoning, licensing, neighborhood organizations, and much more. Maybe you want to create a more temporary venue or have a one-time event.
24HrPHL's Venue Starter Playbook details the process of applying for licenses which allow assembly for entertainment in the City of Philadelphia. It explains each step in simple terms and provides links to relevant resources. This document does not cover anything related to liquor licenses.
A Special Assembly Occupancy License allows non-profit and for-profit businesses to operate "an establishment where 50 or more people regularly congregate primarily for entertainment purposes in the form of dancing or live or recorded music… such establishments may include, but are not limited to, discotheques, cabarets, private clubs, banquet halls, and similar places of assembly." This license allows for the most unrestricted operation of a performance venue, but it is a difficult license to acquire.
If you don't think a Special Assembly Occupancy License is right for you – Section 12 of the Playbook details some alternatives including options available to fraternal organizations and options for temporary assembly permits.
Creating and licensing a venue involves serious legal and financial risk. Many people choose to retain an attorney to help them through the process.
The Playbook was created by volunteers and with the help of student interns from PennPraxis. It has been reviewed by code enforcement officers at the City of Philadelphia's Department of Licenses and Inspections and was last updated in December, 2019.
Disclaimer:
The information provided in this 24HrPHL Venue Playbook (the "Playbook") does not, and is not intended to, constitute legal or other professional advice. Information in this Playbook may not constitute the most up-to-date legal or other information. Instead, all information, content, and materials available in this Playbook are for general informational purposes only and should not be relied on as a substitute for the informed opinion of legal or other professionals. Additionally, this Playbook contains links to other third-party websites. Such links are only for the convenience of the reader, user or browser; 24PHL, its agents, and its members do not recommend or endorse the contents of the third-party sites.

Readers of the Playbook should contact their attorney to obtain advice with respect to any particular legal matter. No reader, user, or browser of this Playbook should act or refrain from acting on the basis of information contained herein without first seeking legal advice from counsel in the relevant jurisdiction. Only your individual attorney can provide assurances that the information contained herein – and your interpretation of it – is applicable or appropriate to your particular situation.
Use of, and access to, this Playbook or any of the links or resources contained within it do not create an attorney-client relationship between the reader, user, or browser and the Playbook's authors, contributors, contributing law firms, PennPraxis or 24HrPHL members. All liability with respect to actions taken or not taken based on the contents of this Playbook are hereby expressly disclaimed. The content on this Playbook is provided "as is;" no representation are made that the content is error-free.