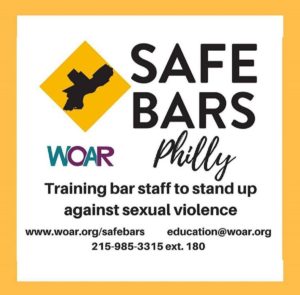 24HrPHL is partnering with Safe Bars Philly, a project of Women Organized Against Rape (WOAR) to facilitate staff trainings for local venues. Recently, WOAR staff member Leah Dirkse came to a 24HrPHL meet up to explain her program and learn about some of the needs and concerns of nightlife participants with regards to harassment and sexual violence.
A training with Safe Bars Philly will help your staff learn to identify harassment and other inappropriate behavior and respond safely and effectively. Staff trainings are inexpensive and also come with a certification that can be posted to inform patrons that the venue has been through the program. This program is new to Philadelphia, having recently expanded from Washington, DC.
You can learn more at WOAR's website. To request a training, you may contact WOAR directly via their training request form or contact us at 24HrPHL at gmail dot com.